The 2014 Sochi Olympics have inspired me. No, I haven't decided to take up bobsledding. I have decided to become a judge--a judge of Olympic fashion. Here is how I scored the opening ceremony uniforms.
Taking top honors on the worst-dressed list for the 2014 Sochi Olympics has to be the USA. They won gold by a long margin. Years from now, we will remember the uniform that Ralph Lauren designed for the Sochi games. Even Olympians will save it for the "ugly-sweater-party".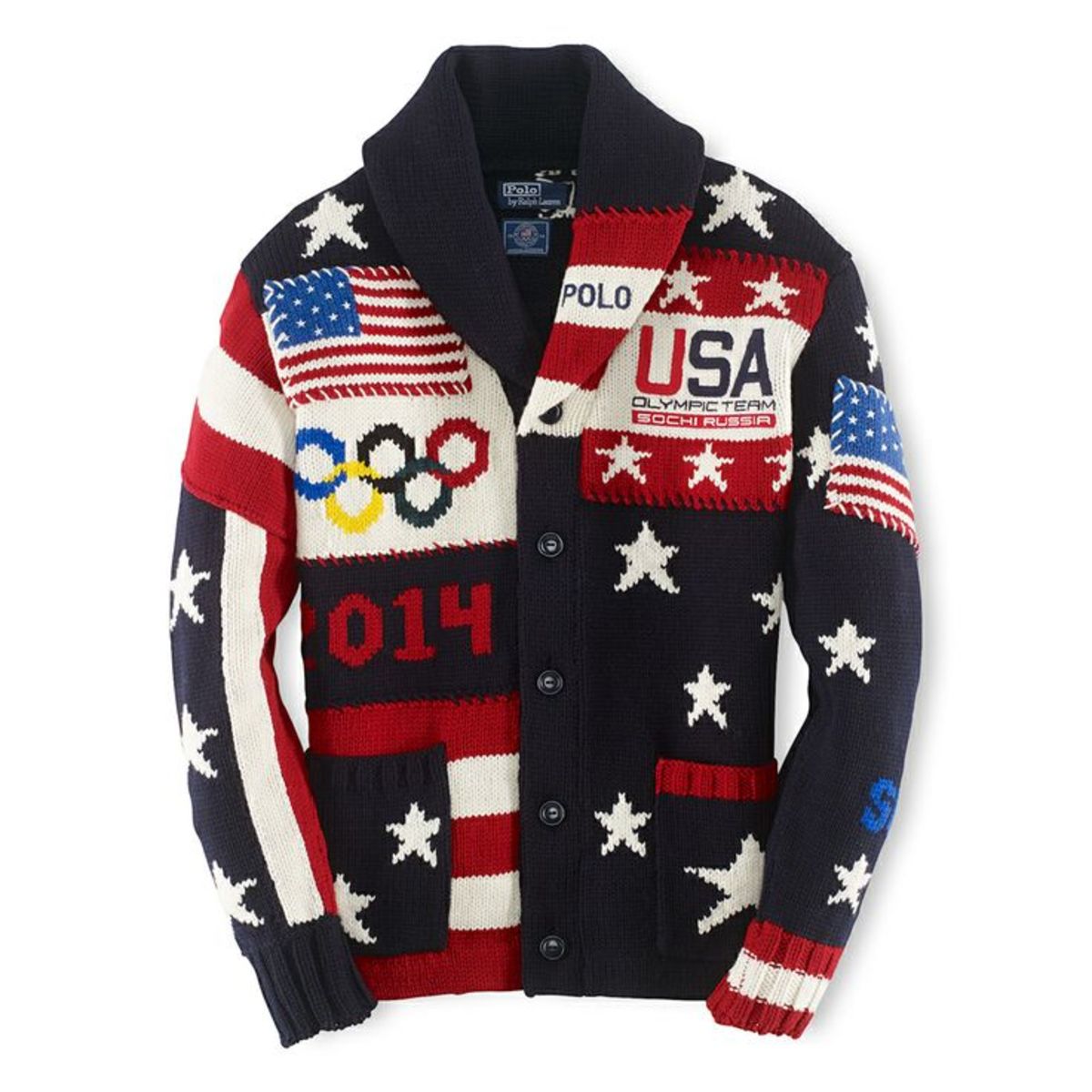 As bad as the sweater is standing alone, when amassed in a group shot, it is hideous.
If you don't agree, you can purchase the official Ralph Lauren Team USA 2014 Sochi Olympic Ceremony Cardigan man's sweater on E-bay today for only $1,995. Are you watching the bidding to snag one at a discount? Don't worry, I'm not your competition.
I scratch my head and wonder, what was Ralph, the- purveyor-of-classic, thinking?
http://www.blogfordmodels.com. Ralph Lauren pre-fall 2014 show
The closing ceremony uniforms are somewhat better.
However, the patently self-serving polo logo front and center is irritating. Does't Lauren own enough classic cars and designer vacation homes? Does he have to turn the Olympics into a marketing ploy? He, of all people, should know that water polo and equestrian polo are summer sports. :)
From my scoring, it's no contest; the US uniforms take all-around ugly honors.
Coming in a distant second in the worst-dressed competition at this year's Olympics are the Germans who win silver. The rainbow effect certainly draws attention, but why the orange-and-rose print pants?
Obviously, the print was not an afterthought. Adidas created an entire suit of the print as seen here on the world's best all-around female skier. I predict that Maria will look back on the games with pride, but will wince at the outfit.
Coming in third on the podium of worst-dressed Olympians were athletes from Lithuania. When leprechaun marries gecko, the offspring are just weird. They win bronze.
Seriously, I have enjoyed watching the games and noting the fashion statements. The handsome and beautiful Olympians are made-to-order models.
But in the spirit of fair play, let's turn the tables. How would the athletes or how would you judge the few ski vests I pulled out in honor of the games?
I predict judges would give the canary yellow outfit gold for worst-outfit. However, I will have to await the awarding of style points on the other two? (Can you guess which one is actually a Polo vest?)
In conclusion, I am hoping that by the time the Olympians march out of the Sochi arena, winter marches out of the mid-Atlantic states! Enough of hideous sweaters, rainbow-colored puffy coats, and silly hats.